Spice VoxBox Review
2015年 12月 21日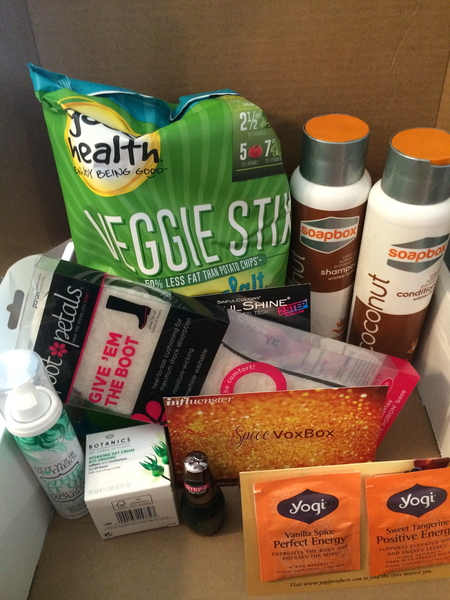 I have received Spice VoxBox from Influenster for testing purposes. My favorite products are
Botanics Organics Day Cream(A) $12.99
Foot Petals (A) but it is bit pricy.... Give them the Bot $18.95
SinfulColors SinfulShine Nail Polish (A) Top coat (C)
Good Health Veggie Straws (B+) -Definitely healthier but I can not give up chips....
SoapBox Shampoo and Conditioner(B)... When you buy you are helping some products in the world(Mine was Nepal and Bangradesh), so that makes it A for me.
Yogi Tea(Tangerine)A+ (my new favorite!!!)
Yogi Tea (Vallila) C(not for me...)
Not your Mother's Whip it up cream Mousse $3 (2.1oz) C(smooth mousse I love that texture but the scents is too sweet for me) Otherwise, this has the best texture than high end mousse.